We felt really nervous before this Shelly Beach wedding which is often a good sign but as this was our first wedding shoot for six months because of the covid-19 pandemic we were a little worried about being at our best.
Of course all our misgivings were unfounded as after a few minutes we were in the groove and just like riding a bike shooting great frames and documenting Inga and Marks special day with fun and joy.
With their original date smack bang in the middle of the pandemic shut down and the height of self isolation a date reschedule was unfortunately needed though Inga and Mark were determined to get married in 2020.
As it turned out they chose a Friday in August which happened to tie in nicely to the anniversary of their first date and it was the perfect Autumn day to have a wedding ceremony on a beach.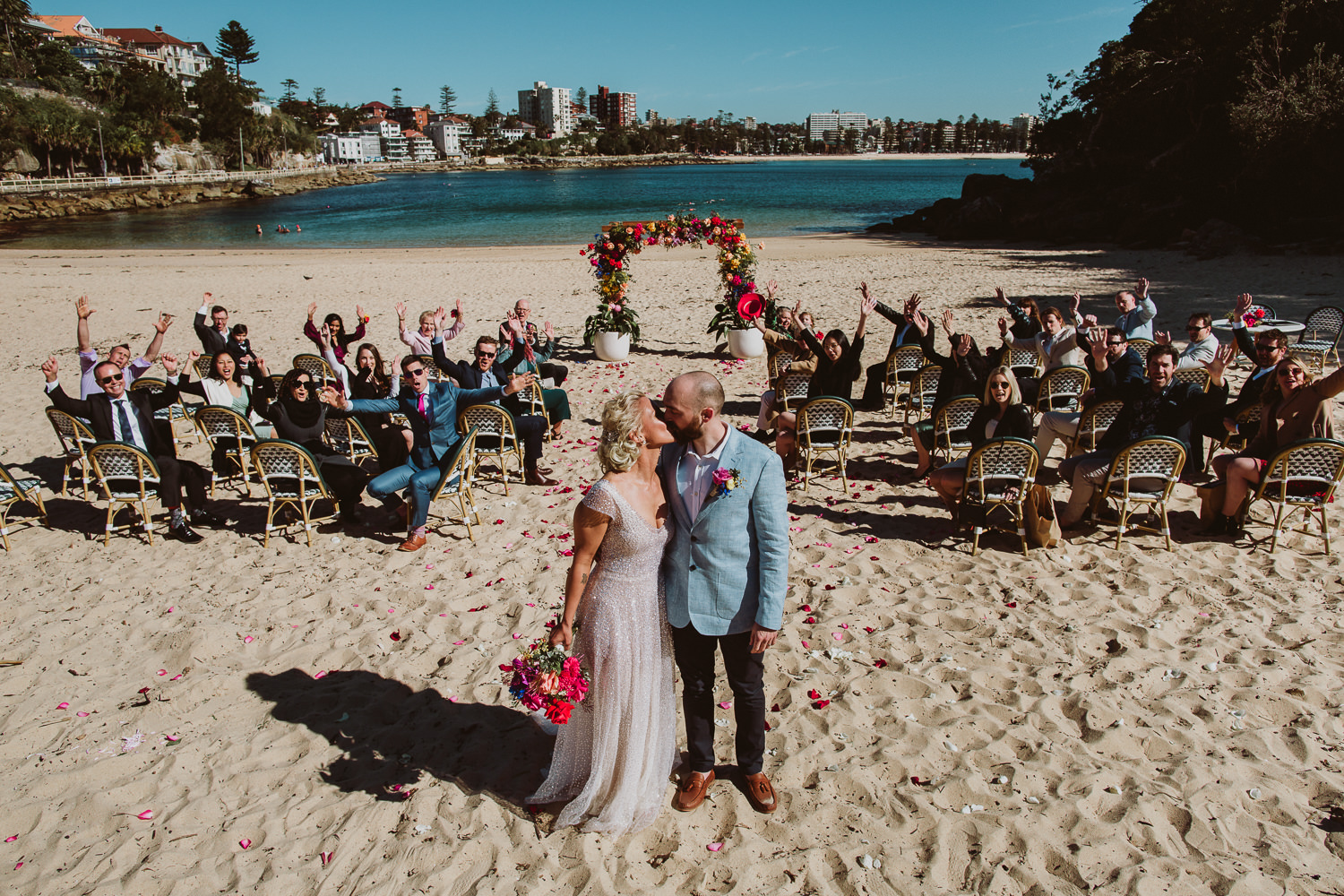 Weddings have been accessed as "high risk" for community transmissions ever since a wedding on the south coast in early March contributed to over 60 positive cases including the bride and groom from an infected overseas guest.
Mark and Inga had to abide by the governments wedding guidelines some of which are understandable and others that kind of get you scratching your head.
Keeping guest numbers at the lower end and no dancing seem perfectly clear to help stop community transmission buy not being allowed to stand as the bride and groom walk down the isle seem a little strange to me.
Mark made a point of not crying although clearly emotional when Inga walked down the isle as his brother in law had did some years ago but lost it completely when attempting to say his vowels staring into Inga's eyes and holding her hand.
The Shelly Beach wedding location was flawless and the 9am start was exactly the right time before the beach crowd started to flock in to take advantage of the picture perfect beach day. With a short stroll to the Boathouse for the champagne breakfast reception to top it off.
Venue: www.theboathousegroup.com.au
Dress: www.annacampbell.com.au
Celebrant: www.stephenleecelebrancy.com.au
Event styling: www.cloud9events.com.au
Music: www.whiteclovermusic.com
Cake: www.greenbergandcocakes.com
Transport: www.kombistyle.com.au/
Florist: www.clemetineposy.com.au
Make-up: www.chisatoa.com
Photographer: www.thebeautifulcollective.com.au
Like to get in touch click here.